The first choice of stay was Varun Novotel, however, as the one day stop over at Araku was for the sole purpose of visiting the beach and spending some time there, I took the decision to snub Varun Novotel which while being a beautiful property located on the shores of the majestic Bay of Bengal, was more inclined towards the business class.
Astute research pointed towards the, The Park Hotel, Visakhapatnam which has a private beach front and was more of the resort located right on the beach. I went on and reserved 2 rooms at the hotel for the price of Rs. 7000 per room via the ever reliable Cleartrip.
We arrived an hour before check-in at 12:40, check in was to be at 14:00. Generically speaking, the entrance of the hotel is very sober and has nothing to show that this is a luxury/5 star property. However, with an emphasis on nature and dark colours, I did like how they structured the entrance as this was more towards my taste. This is where I sort of started flipping, there was a person at the valet but he would not come over immediately, there was no bell boy even after 3-4 minutes of our arrival. The place was quite, hence I failed to understand why the receiving was so lacklustre. Moving to the front office, there was a guy and a lady, both looked at me but none of them bothered to smile. I did the formalities and was not entirely happy with how they received us. The guy at the front desk was friendly, no doubt about that, however, he lacked the professional training. I am sure if an expat or a foreign tourist came over, they would be drooling with smiles, this is one of the major issues I found with Indian hospitality.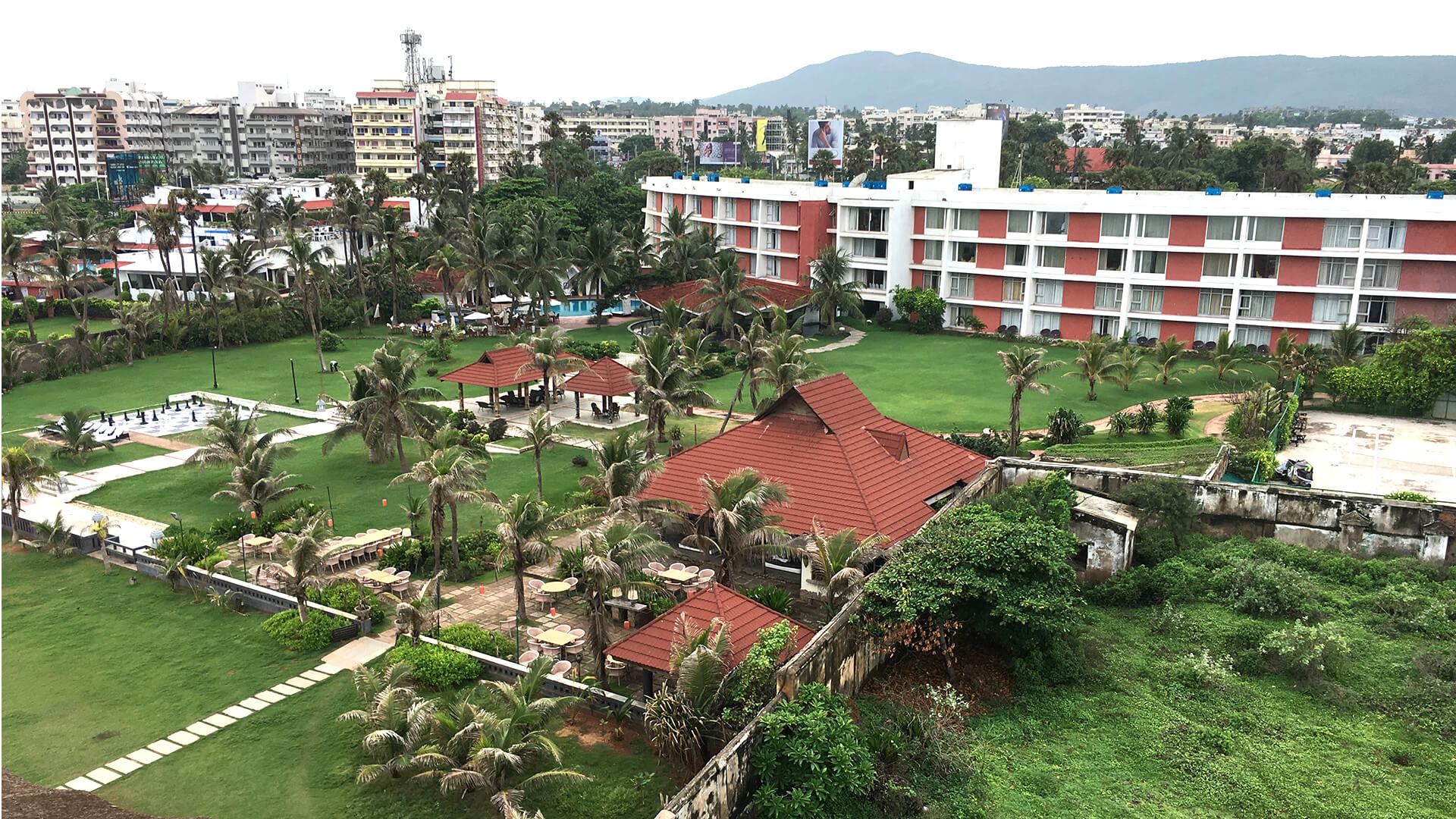 View of The Park Hotel, (Shot from the lighthouse)
We were asked to wait, we informed them that we would take lunch and to have our rooms ready by the time we finish. We were told that only one of their restaurants was open at this time, hence we decided to dine at the only option which was Vista. We were extremely hungry and we wanted something to be turned over to our table quickly. The ladies insisted on the soup, a thing about the waiter was that he was absolutely appalling, he knew everything he had to do and was only going through the motions, there was no smile, there was no paying attention, even though we were the only guests on the entire floor. Yes, no other tables were taken during peak lunch hour. We ordered soup, I was asked if it will be 1 by 2, I responded by saying, yes, we will split the soup. After 15 minutes, our soups had arrived, only 2 while we were expecting 4 bowls. When asked, the waiter insisted that I had said the 'we' will split, so he thought we will do it ourselves. I was a bit bamboozled at this logic.
We ordered a couple of curries to go with our nan bread, prawns, and mutton keema was asked for. It took them a whole 25 minutes and couple of times nagging to bring these curries and bread out, by the time we were able to eat, we had almost passed 40 minutes. The curries which were brought out were absolute substandard. It is something I cooked in 10 minutes during my studying and living in a shared flat with my mates. The prawn curry had chopped tomatoes and onions in it as if it was made by someone who did not know how to cook. There are times when something arrives and there is disagreement on the table that one of us likes it and another doesn't, this time around, even though we were starving, there was complete agreement that these were not restaurant quality curries, let alone 5 stars/fine dine quality. Being a decent cook myself, I asked for some cream to repair the curries, but these were beyond repair. I asked for the chef who cooked these and asked them what was the basis of these recipes, meaning, from which cuisine he cooked them, he was silent. His best answer was, we cook like this only as everyone likes them, they don't have any cuisine. Chef Sukdev's answer shocked me! ASM Manoj came in later, I explained what the problem was with the curries and he promptly apologised. They had removed the curries of the bill, at this point, we were decently happy with the service and response of ASM Manoj. It has to be noted though that when you are on holiday, which you can manage only once a year or twice, you are looking to enjoy every meal, it is not really about paying the price of two curries or not.
We went on to the front desk and they were still working out our rooms, when the response was once again lacklustre, I lost it and gave them a piece of my mind asking them to talk with a smile and pay attention while talking so the host feels that they are doing everything they can to address the situation. They had a beautiful waiting room, we laid there, as we started our drive at 4AM and actually got up at 3AM, we were very tired at this point.
After about 20 minutes, we were given one room and all 4 of us were asked to wait here so they can get the other room ready. The reason given was that because they had to arrange rooms beside each other, it was taking time. No complaints here as it was a valid reason. The view from the room lifted our spirits as it was breathtaking, the lawns, the restaurants, and the amazing ocean could all be seen in one panoramic view from the massive glass window. It was a bit past 15:00 when we were finally allocated the rooms.
After an hour or so, we set foot outside our rooms to explore the property as well the surrounding areas. The Park Hotel was a place of beauty, it was astoundingly beautiful. It was a glorious walk of about 3 minutes to reach the private beach front. I have shot a video of the same and you can have a look below.
Please do take note that while it is a private beach, it is only until the point of the actual beach, meaning, the beach itself is open to everyone, so do not expect the actual beach to be private, however, we did see a lot of maintenance work being done to clean and security was also posted which was more than what we asked for. We spent some wonderful time there and we then decided to climb the abandoned lighthouse which for some reason was open to everyone. The ladies stayed back on the beach while we risked our lives to climb the lighthouse, the views once we reached the top were completely worth it. I would suggest you do not climb this, we anticipated that there would be stairs but half the stairs were broken and the last part had to be done on a rusty iron ladder. I would love to see the local government demolish this lighthouse or block public access before any fatality occurs. Please note that this has nothing to do with the hotel, this lighthouse is on the beach.
We then ventured around and returned back to the hotel for dinner. We were informed earlier in the noon that there were 4 places we can have food in the evening. The Vista which we had already graced in the noon, Aqua, which was more of a drinks place, the Bamboo Bay, which was projected as an American BBQ place and finally the Tribe which was too loud for us. The host lady at the Bamboo Bay failed to talk us through and get us into her place to dine, we got confused and left leaving us only with Vista. Earlier, I had read a lot about the buffet in this place and convinced others that this was the best option unless we decided to leave the property to find another place to eat which we were all reluctant to do.
Unlike in the noon when we were the only ones who were present at the restaurant, the Vista was packed with diners. It was a bit of assurance as we had a miserable flop during our a la carte based lunch. The presentation captured our imagination and got our taste bud tingling. We ordered some drinks and were are set to attack the spread when we decided to start off with the soup and starters. We were 15 minutes into our dinner when my friend discovered a cute little baby caterpillar in his seafood broth soup. We almost puked on the tables itself, however, not wanting to make a scene, I showed it to a waiter, he instantly took the plate away.
We awaited a response but got none for 10 minutes while others were consuming the seafood broth which was set up in the soup pot. I got up from my table and had a go asking them to remove that pot of soup, the did that. After 10 minutes, a whole battalion of staff appeared, apologising and assuring that the rest was safe to be consumed. The ladies were very embarrassed and did not want us to make a commotion, we quietly ate and wanted to leave. When we asked for the bill, we were informed that we need not pay, we insisted we will pay as we had eaten our dinner. After a bit of a tussle, we go them to charge us at least for the drinks which came up to Rs. 2000. We left with a bitter experience. Breakfast was free and we encountered 2 hairs in the hash browns, we were all relieved that it was not a caterpillar, we did not show this to them.
We left the place after breakfast as we planned to reach Araku late noon. This was such a beautiful place, the weather which was cloudy and a slight drizzle in the air made it like a fairy tale, however, the food was unacceptable. Health and hygiene, service, cleanliness and courteous behaviour are the least we expect at a place like this. There are many people who have good intentions at this place but alike in every business, a few bad eggs spoil the whole basket.