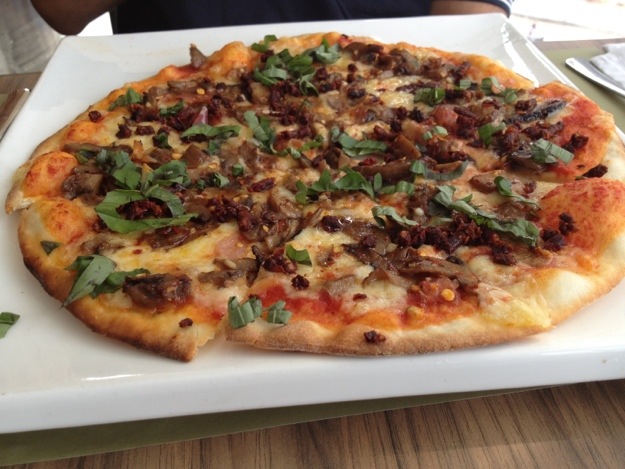 Read a lot about this restaurant, most reviews that have rated this place below 4 starts on Zomato were not happy about the fact that this was an all vegetarian restaurant. I for one think that it is not fair to down rank a place just because it does not offer a choice that it does not advertise. This is similar to saying you are not happy with the brand apple because it does not manufacture and provide shoes. That out the way, I made a lunch appointment with my buddy, 'Zen' my eating partner from way back, we both share the same gluttonous characteristics and have high expectations of a place, especially when it caters to a niche cuisine.
We were scheduled to visit the Jubilee Hills branch but due time constraints and an appointment in Cyber Towers we had to visit the branch located in Hi-City. Although this won't affect the rating I give, I have to the valet parting attendees were very lackluster in attending to us although there was only our vehicle to tend to. We entered the premise and were not overly excited about the interiors of the place, not a lot of effort had been taken to create an ambiance close to something that resembled an Italian Restaurant. British music playing in the background did not help either. We were shown a lovely table in a corner with a great view of the Cyber Towers. The waiter informed us that a lunch buffet was one, checking the price revealed it was Rs. 499 and was quite a deal. The condiments, salads and dessert were unlimited whereas a started, first course(a pizza) and second course(pasta) needed to be chosen from about 6-8 choices of each.
As mentioned earlier, we are gluttonous and we were worried there would be a catch, upon investigation the waiter revealed the portion sizes were quite small and the pizza would be quarter size. This was enough to summon the A la-carte menu. I ordered a custom pizza, a Margeritta with three extra cheese topping, so to add to the tomato sauce, mozzarella cheese and Basil, I wanted Cottage cheese, Cheddar Cheese and Parmesan on there. Zen ordered the Ultimate Pizza.
In the meanwhile Zen ordered a Lemonade and a Cheese Garlic Bread, the lemonade was out of this world and quite a huge serving. The Garlic Bread was a shocker, it was a Bun sliced in 4 quarters with the filling inside, Zen was furious "this isn't Garlic Bread" he remarked and was about to summon the waiter but I managed to let the issue go. Yes, this was not close to being Garlic bread, Italians pride in their baking and they take their bread very seriously. The taste was sumptuous and we did not bother much about what we were eating, whatever it was, it was not Garlic Bread, it was Garlic Cheese Burger.
The Pizzas showed up at the corner, our waiter had them in his hands but was in a heated argument/discussion with other servers. I was pleading him within myself to bring them to us as eating a cold pizza was not something I enjoyed. Especially with four different kinds of cheese on it.
Once the pizzas arrived, we bit into them lick starved wild dogs, before we knew it 3 pieces of each pizza had been consumed, we even managed to exchange slices of each others pizzas during this period. Once our taste buds were satisfied and our bile juices had something to work on, we began the autopsy, then it struck me that, there was no basil on my pizza and it was a cheese pizza. Zen had no qualms with his pizza and neither did I, the missing basil did not make me appreciate the pizza less but it would have been wonderful. The crust was beautifully thin and would have made an Italian pizza maker proud.
We asked for Parmesan and were promptly given a good sized serving, it was wonderful. As warned by our very polite, very humble, non English speaking/understanding waiter, we had no room left for pasta, on a more important note, I did not have time left either. We ordered the dessert upon the advise of our waiter how suggested us to have the Sizzling Chocolate Walnut Brownie with vanilla ice cream.
The sizzling dessert arrived in a short time and was presented on a sizzler, alike the ones that Tanddori or Lamb Chops are served. Soon the whole restaurant was eyeing our dessert, it was wonderfully rich, although the brownie lacked density and was slightly like a cake, the taste, the hot fudge, the cold vanilla and pieces of walnut made it a wonderful recommendation. To finish off, we ordered an espresso, it did not arrive for quite some time, upon inquiry we were told it was made fresh from a Lavazza machine and it takes time. Wonder, what that meant but when it arrived, the espresso was flat, did not have crema on top and was just not right. Zen just had it the way it was as we were short on time.
The bill came up to 1450/- We were happy with what we ate, the pizza, the crust of the pizza and the dessert were the highlights. In hindsight, we regretted why we did not try the buffet as it would have given us a chance to try out but our gluttonous instincts sometimes snub our decision making.
Praise;
A grand choice of wonderful Pizzas
The crust will make any Pizza a winner
The view from the seating area
A very affordable buffet with a lot of choices
Criticism:
It's an Italian place, please make it look and feel like one
An English speaking, knowledgeable waiter would seem practical in such a place
Be honest, the waiter and staff knew they missed basil on my pizza but chose not to mention it, whereas a simple apology would have done
Not sure, why you have Mexican on your menu.
Italians take their food and coffee seriously, very seriously, please try to follow their recipes perfectly, not the easy route which was taken in the case of the Garlic Bread.
[sws_blue_box box_size="601″] Verdict I guess this is as close as you can get to eating an authentic Italian pizza, not quite sure about the rest of the items in this place, quite affordable as well. [/sws_blue_box]